Patriotic Sheriff Slaps Migrant Caravan With A New Label – And Trump LOVES It
As the media tries to distract us, a large migrant caravan continues to march towards the U.S. border.
We know these migrants aren't refugees fleeing war. They are not eligible for relocation assistance by the U.S. government.
This is an invasion, pure and simple.
Even worse, the caravan has swelled in size over recent weeks; even though some have turned back, a large group continues onward.
In response, a patriotic former sheriff gave the horde a new name…
From Breitbart:
David Clarke, former Milwaukee sheriff and current spokesperson for America First Action, told Breitbart News that a migrant caravan approaching the U.S. is 'an invasion.'
He offered his remarks in a Friday interview on SiriusXM's Breitbart News Daily with Breitbart News Deputy Political Editor Amanda House.
Clarke continued:
'There's no way the border can handle an influx of fourteen or fifteen thousand people at one time.

Keep in mind that this thing started out in Honduras with about fifteen hundred people, now it's up anywhere between eight and fifteen thousand.'"
Clarke concluded:
"This is a national security threat, and the president has — under the Constitution and the federal code — the authority to do certain things when a national threat emergency presents itself, and that's what he's looking at here."
President Trump must take a tough stance on this caravan. If he doesn't, more will form … and more will invade.
Much like in Europe—where migrants overran entire nations—hordes of people will come from South American to overwhelm our borders.
These people aren't fleeing war; they're hoping for handouts from the U.S. government.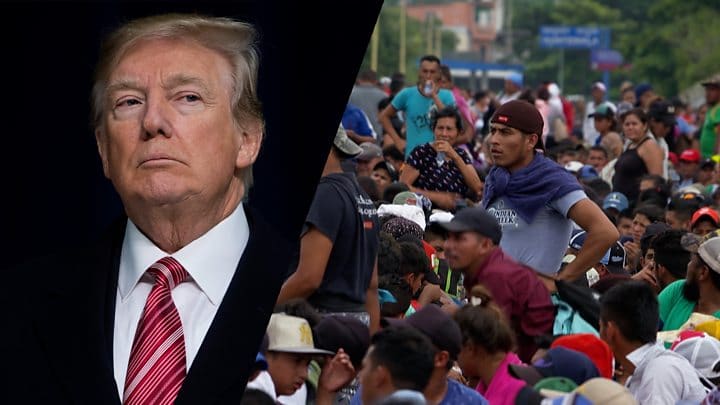 They were promised homes, money, and jobs from immigration activists working for the Democrats.
But those very same Democrats simply exploit the needs and fears of migrant groups, hoping they'll eventually vote for them.
There are millions of Americans in need, that deserve the support and focus of our government. Yet Democrats would rather help foreigners.
This is an INVASION and it most certainly is a threat to national security.
That sheriff is just telling it like it is!
Source: Breitbart