SHOCK POLL: The Latest Numbers Are In…Trump Can't Believe His EYES!
It's not supposed to be this way, and the panic is beginning to grow.
The narrative for this race has been set for months.  The media expected the Clinton political dynasty to sweep through and dominate an inexperienced businessman.
New polls are indicating that this storyline has been abandoned by the American people. Breitbart has the details from a new Emerson poll:
Donald Trump has jumped into a 2-point lead over Hillary Clinton, according to a new national poll of 800 likely voters by Emerson College.
Trump scored 43 percent to Clinton's 41 percent. The poll's margin of error is 3.4 percent, so the apparent lead is basically neck-and-neck, but Emerson has a good rating among pollsters. The poll was conducted from Sept. 11 to Sept. 13, amid rising public concerns over Clinton's health.
Libertarian candidate Gary Johnson got 9 percent of the national vote, and Green Party's Jill Stein got 2 percent, said Emerson.
In short: Hillary's in trouble.  Not just because she apparently has pneumonia, but because she lied and deceived and covered it up.  And the media narrative that expects a Hillary win is finally breaking down:
Emerson's new polls also show that more voters think Trump can win the race. "Only 45% of the national electorate [are] saying Clinton will win, compared to 43% who say Trump will" win, said Emerson.
One final piece of information. Arkansas, Hillary's home state, is deeply red, but you would think they have some affinity for their governor's wife.  Instead, they're telling us the exact opposite: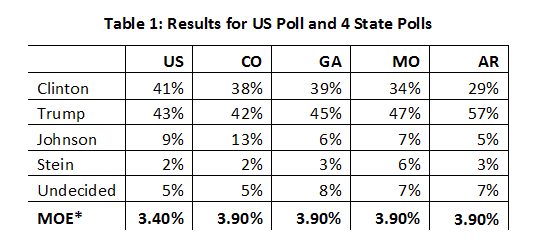 57 to 29? Her own people know her, and they don't want her.  Her disapproval numbers are through the roof there.  Know Hillary's past and very few who aren't die-hard liberals will be willing to vote for her.  If Trump can help America get to know Hillary as well as her home state does, he will be unstoppable.
Source: Breitbart