Trump Makes Shutdown Announcement – 140 Million Taxpayers Affected
Taxpayers were getting worried, but Donald pulled through for them.
President Donald Trump says the government could remain in shutdown mode for a long time.
In fact, he said it could last "months, even years."
He's taking a stand for a border wall that America desperately needs along its southern border, but Democrats are fighting it every step of the way.
The result is an unfortunate stalemate.
And it has sparked some concerns about what will happen with our taxes in 2019…
Many Americans have already asked the question:
"With part of the government shut down, will I still get my tax return if I file now?"
Well, President Trump has just answered: YES.
Via Breitbart:
"The Trump administration has ensured that tax return checks will go out despite an ongoing partial government shutdown. 
The administration has worked with the Office of Management and Budget to ensure the IRS issues tax refunds despite a partial government shutdown that affects the IRS.
Acting Director of the Office of Management and Budget Russ Vought emphasized during a Monday briefing with reporters…
…that the Trump administration has worked to make the partial government shutdown as painless as possible consistent with the law.
Vought on Monday acknowledged concern over whether tax refunds would go out while the government is shut down.

He assured refunds will go out."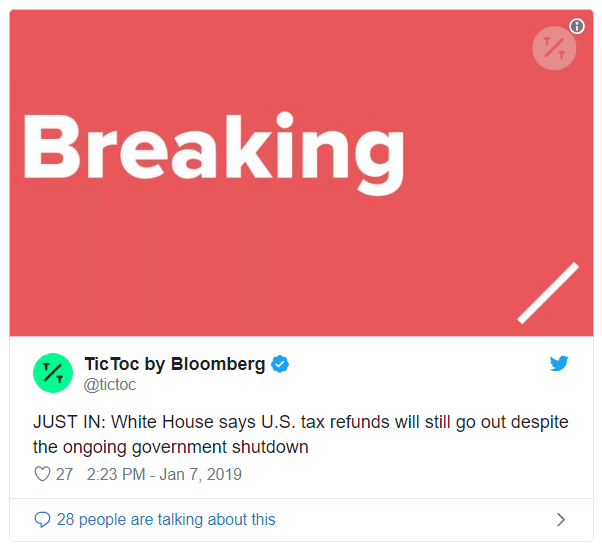 SHARE to thank President Trump for getting hardworking taxpayer dollars their refunds!
Furthermore, it seems flood insurance policies will be covered as well, and park services will remain open and functional.
This is great news, because it means the American people won't be robbed of their tax refunds, just because Democrats refuse to talk.
And that's really the bottom line.
Leftists want to blame President Trump for the shutdown, but it's the Left's staunch refusal to consider our border security that's causing the impasse.
And Trump isn't about to budge.
So, while he continues to stand his ground, you will still be able to live your life as normally as always.
SHARE to thank President Trump for getting hardworking taxpayer dollars their refunds!
Source: Breitbart