Hours Before Shutdown Meeting – Trump Pulls The Rug Out From Nancy Pelosi
She thought Donald would roll over – he came to win.
Unlike the Democrats, Trump is trying to make a deal to reopen the government.
Democrats don't care how many people are hurt by the current shutdown. They think they can play Trump to forever block the wall.
Clearly, they don't know who they're dealing with.
Now he's turning on the power moves.
From The Political Insider:
Before the meeting starts this morning, Trump let fly over Twitter how Mexico will pay for the wall ultimately, in a more roundabout way: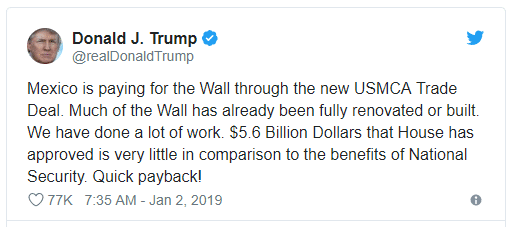 "Mexico is paying for the Wall through the new USMCA Trade Deal. Much of the Wall has already been fully renovated or built. We have done a lot of work. $5.6 Billion Dollars that House has approved is very little in comparison to the benefits of National Security. Quick payback!"
Democrats are walking into the room with the best dealmaker on the planet. Trump literally wrote the book on making deals.
And he's setting it up in the White House's Situation room, where the spotlight and the pressure will be on them.
SHARE to thank President Trump for fighting back and holding out for the border wall!
All these delays, obstructions, and tricks have been leading to a decisive victory. Democrats can't really stop the wall from being built.
Far too many Americans want border security. Much of the wall is already built. We just need to finish the job.
Democrats are just playing games for political purposes. They know the wall has to be built. They've said that themselves years ago.
They just don't want to give Trump yet another victory that will ensure his 2020 win.
UPDATE: After Trump's meeting, he had a message for Democrats and the country: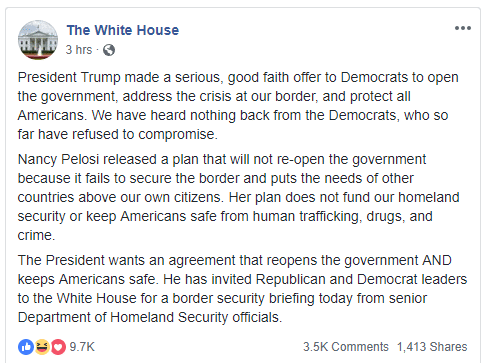 Not what Pelosi wanted to hear. Donald's not about to roll over.
Newsflash Dems: Trump has 2020 in the bag. No amount of posturing, lying, and obstructing is going to stop him from reelection.
All they are doing is hurting themselves and the foolish communities they represent.
Expect Trump to get a big win in the coming days.
SHARE to thank President Trump for holding out for the border wall!
Source: The Political Insider