After State Declares Sanctuary – Trump's ICE Drops The 'Storm' Hammer
America's newest Sanctuary State defied Donald, so he sent the storm in.
Liberals always seem to put American citizens last, don't they?
After all, it's states run by Democrats where non-citizens have the highest numbers, and New Jersey is no exception.
Between 2009 and 2012, the number of undocumented immigrants living in New Jersey increased by more than 16 percent, all thanks to liberal airheads like Senator Cory Booker, AKA "Spartacus".
Just days ago, New Jersey changed its laws to effectively become America's newest Sanctuary State.
Even the state's Attorney General is doing all he can to block ICE from deporting these dangerous criminals, but ICE is not having it.
They're storming in.
From NorthJersey.com:
ICE said last week that it would conduct at-large arrests in response to a new directive, issued by state Attorney General Gurbir Grewal, ordering local law enforcement to limit cooperation with the federal agency.

"As a result of limited cooperation with local and state authorities, ICE will have no choice but to conduct at-large arrests in local neighborhoods and at worksites, which will inevitably result in additional collateral arrests, instead of focusing on arrests at jails and prisons where transfers are safer for ICE officers and the community," the agency said in a statement.
SHARE if you think Trump should outlaw and defund all Sanctuary States! 
ICE made it clear in their statement that it doesn't have a choice but to conduct "at-large arrests" because Attorney General Grewal won't allow local authorities to assist them.
But like all liberals, Senator Booker is completely dismissing his Party's role in ICE's decision to conduct raids, claiming that ICE's "aggressive tactics" make New Jersey "less safe".
If Democrats would cooperate with ICE in New Jersey, these raids wouldn't be necessary!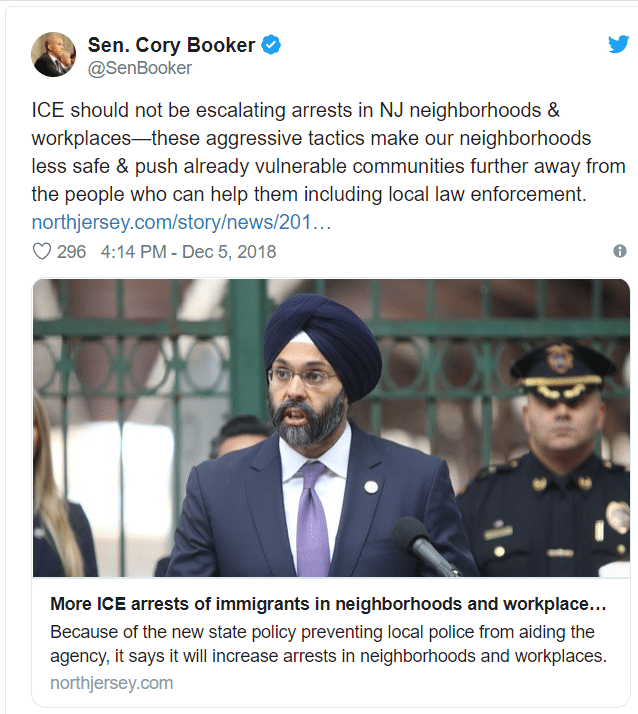 Booker's tweet claiming that ICE are making neighborhoods "less safe" further shows his true intentions.
ICE arrested 105 in New Jersey during this raid, and many of them were MS-13 members and international criminals.
Booker's job is to represent and protect the citizens of New Jersey, but Democrats don't even understand that word. This is why so many Americans are waking up and are moving further to the right.
The GOP and ICE care more about the safety and wellbeing of those in New Jersey more than Booker, Menendez, Murphy and the rest of the Democrats.
That's why Trump will win in 2020 and Republicans will continue to make gains in the government.
SHARE if you think Trump should outlaw and defund all Sanctuary States! 
Source: NorthJersey.com