After Stormy's Lawyer Gets Arrested, Trump Blasts Him With 7 BOMBSHELL Words!
Did you know that Stormy Daniels' lawyer, Michael Avenatti, has claimed he could beat Trump in 2020?
…but as it turns out, the only person he's "beating" is the women in his life.
The disgraced lawyer has been in the news a lot recently, and not for anything good.
He lost his defamation suit with Stormy Daniels, his defense of Kavanaugh accuser Julie Swetnick was never believed, and he got evicted from his law offices last week for failing to pay rent.
He's been taking a lot of hits lately, so I guess he felt like he had to hit back.
Now, actress Mareli Miniutti claims she has suffered horrific abuse at the hands of Avenatti.
In a written statement, she described how Avenatti hit her in the face and dragged her across the floor, all while calling her an "ungrateful f***ing bitch."
Avenatti is proving to be quite the pig, isn't he?
When asked about Avenatti, President Trump had a hilarious response.
"Departing the White House, Trump told a reporter who asked about the Avenatti arrest, 'I wish him the best of luck.'

The reporter asked if Trump had a 'reaction' to 'Michael Avenatti being arrested for domestic violence?'

Trump smirked and said, 'No, I wish him the best of luck.'"
President Donald Trump had a similar message for the recently arrested Alec Baldwin, by the way.
Baldwin, who frequently plays Trump on Saturday Night Live, was arrested two weeks ago after allegedly punching a man over a parking spot in New York City.
What goes around comes around, right?
The men who most prominently accuse the President of being unfit for office turn out to be unfit for society.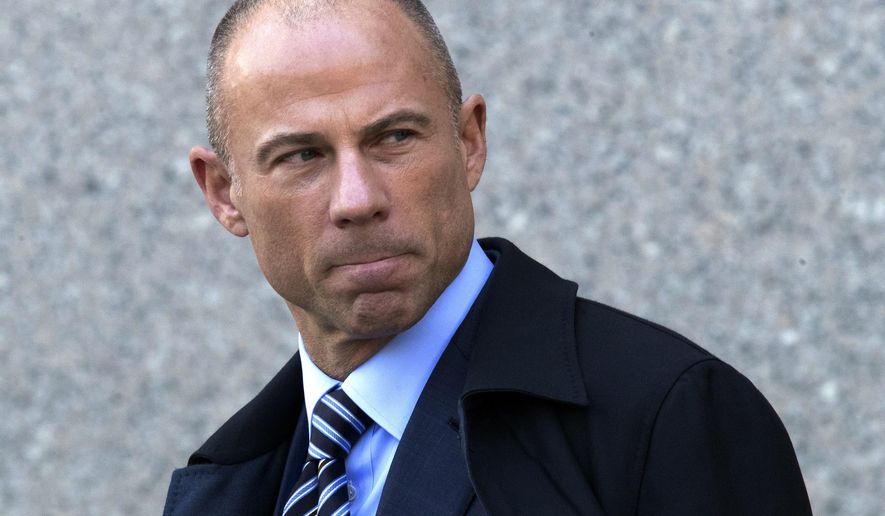 The fact that Avenatti wants to run for president with this charge hanging over his head is ludicrous, but Democrats do have a history of elevating men accused of domestic violence.
Keith Ellison recently won his election in Minnesota for attorney general, despite multiple charges accusing him of beating his girlfriends.
Lesson learned: Democrats say to believe all women, but they don't really mean it. If the woman is accusing a Democrat, she is dragged through the mud.
Maybe Avenatti will run in the 2020 Democrat primary with Keith Ellison.
Their slogan will be: "We Can 'Beat' Hillary."
Source: The Daily Caller