After Taylor Swift Begs Dems To Vote – It Turns Out She's A Total Hypocrite
Taylor Swift's dirty little secret is out – and she can't "shake it off" this time.
Despite keeping her mouth closed in past elections, pop star Taylor Swift has come out as a Democrat.
The once neutral singer has made waves since she bashed a Trump-backed Republican in her home state of Tennessee.
She continued her tirade during the AMA's, demanding that the empty-headed teens who watch that show go and vote.
Might not have been a great strategy, considering the show had the lowest ratings ever.
It's clear the aging starlet is simply desperate for attention. But for all her virtue signaling, a few sleuths uncovered an ugly truth about Swift.
From Information Liberation:
A search of the Tennessee Secretary of State's official voter registration database says that "Taylor Swift" is not registered to vote in the state of Tennessee.

It's not clear what state Swift claims as her residence, but she specifically said on October 8th on Instagram, "I will be voting for Phil Bredesen for Senate and Jim Cooper for House of Representatives."

If Swift is intending to vote as she claimed, she may want to contact her local county election commission.
Uh, so Swift is demanding Tennessee voters back Democrats. But she isn't even registered to vote?
Information Liberation provided an update that maybe she is registered, but not under her full name:
UPDATE II: It appears it may have just been an issue with the search form. A commenter found out that if you put only "T" in the first name field and "Swift" in the last it will take you to a page showing a "T A Swift" is in their database and it asks you for the last four digits of your social security number to continue.
I guess she figured her "star power" would be more effective than just one vote. Isn't that like an elitist?
In a democracy, we all have the same voice. Rich or poor, famous or not, we all get one vote.
SHARE if you are going to use your vote in November!
She thinks she has more of a voice than you, the people of this country.
But look what happened after she bashed respected and Trump-backed Marsha Blackburn: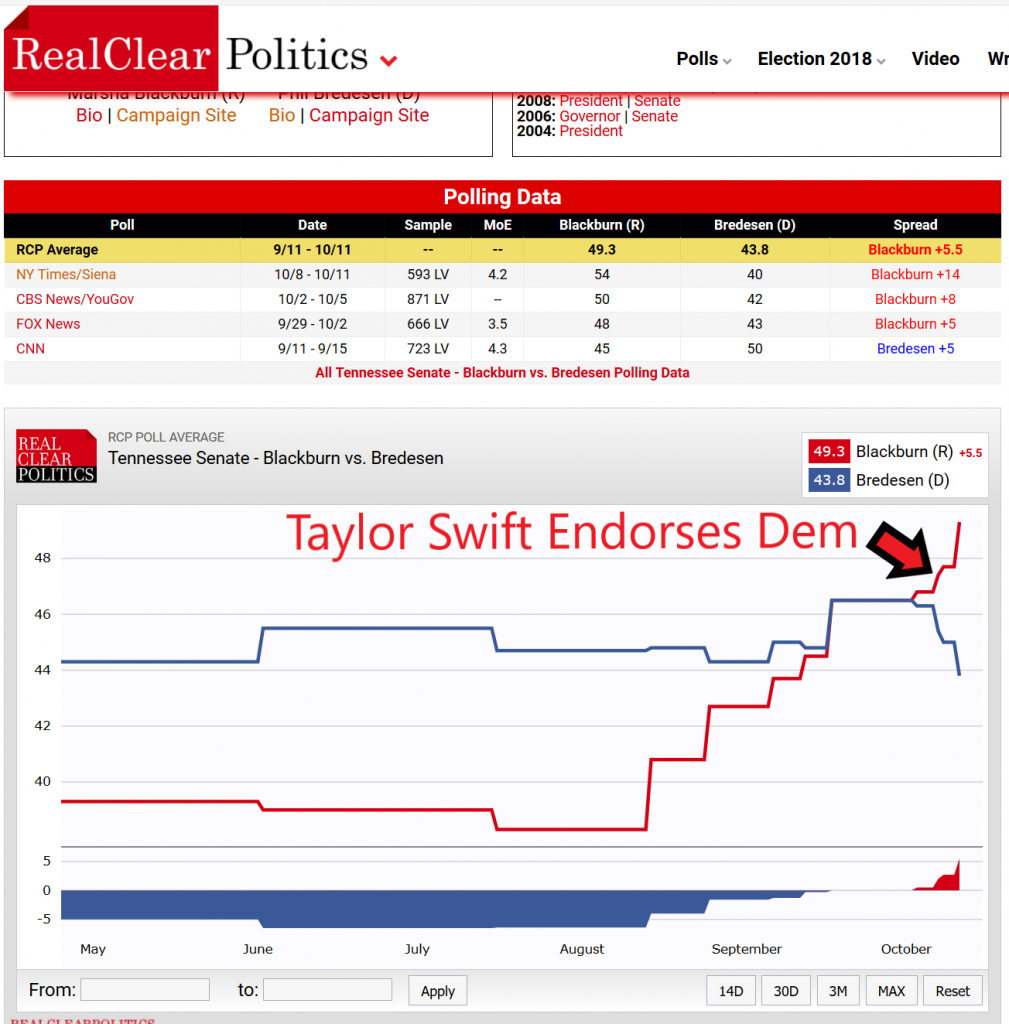 What do ya know! Blackburn shot up in the polls! What does that tell you? Tennessee voters don't like getting lectured to by a bratty girl who doesn't even bother to register.
She can complain online and on TV all she wants, but the truth is, she doesn't really care. She already got all the publicity she wanted.
But every patriot in Tennessee needs to vote. If you don't want elitists like Swift to call the shots, be sure to flood the polls this November. Tell celebrities that we're not dancing to their tune.
SHARE if you think Republicans are going to win in a RED landslide!
Source: Information Liberation