Texas Judge Strikes Down Obama Law – Democrats Lose Holy Grail
Obama thought Trump had failed – now he can't believe what Donald took from him.
The American people hired President Trump to get rid of Obama's liberal legacy of higher taxes, open borders and bad health care.
And Donald just took a giant leap towards erasing Obama's biggest achievement.
In Texas, a federal judge just made a ruling that liberals thought could never happen.
And it's exactly what Trump supporters were asking for.
From Breitbart:
A Texas federal judge on Friday ruled that Obamacare violated the Constitution, likely pushing the ruling towards the Fifth Circuit Court of Appeals.

Judge Reed O'Connor, a U.S. District Judge for the Northern District of Texas appointed by former President George W. Bush, ruled that Obamacare violated the Constitution.

Twenty Republican state attorneys general brought the suit, Texas v. Azar, who asked the court to rule that the Affordable Care Act (ACA) violates the Constitution after Republicans managed to zero out Obamacare's individual mandate penalty with the Tax Cuts and Jobs Act last year.
Not surprisingly, President Trump is thrilled to get this result: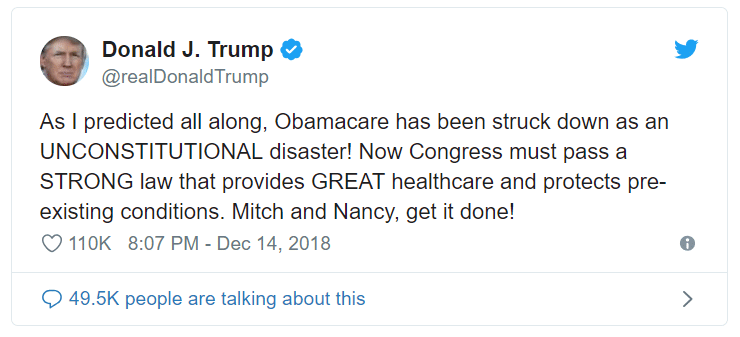 As I predicted all along, Obamacare has been struck down as an UNCONSTITUTIONAL disaster! Now Congress must pass a STRONG law that provides GREAT healthcare and protects pre-existing conditions. Mitch and Nancy, get it done!
Click here –> SHARE to thank President Trump for getting Obamacare struck down!
This is some of the best news President Trump has gotten all year. They fought to take apart Obamacare in Congress and failed in the Senate by one vote, cast by John McCain.
But, even though it took longer than they had hoped, their success in stripping Obamacare of its tax mandate has taken apart the entire law.
Unfortunately, this ruling will surely be challenged in the 5th circuit court and then at the Supreme Court, where hopefully John Roberts and the other justices will be far more reasonable and Constitutional.
Judge O'Connor's argument is sound, and he just helped President Trump take a giant leap towards repealing and replacing Obamacare with common sense healthcare reform for Americans.
But the media is already burying this massive achievement – we need you to get out the word about this great victory.
Click here –> SHARE to thank President Trump for getting Obamacare struck down!
Source: Breitbart