Days Before The Midterms, Trump's Approval Rating Takes A Sharp Turn
This election is all about The Donald, and his numbers just took a major swing.
The midterm elections are only days away. The stakes are clear.
If you want to support the president's Make America Great Again agenda, vote for Republicans. If you want American prosperity derailed by corruption, toxic politics, and crime, vote for Democrats.
Donald Trump has successfully made this election about him. He's even traveling across the country to support numerous Republican candidates.
It's a risky move, if you believe the fake news. Democrats in the media have trashed Trump endlessly.
They call him a liar, sexist, racist, and even a Nazi. If Americans believe their constant onslaught of hate, Republicans are in trouble.
A new poll has come out, gauging how Americans feel about Trump.
All we can say is, the left is in for a big disappointment.
From Rasmussen Report:
The Rasmussen Reports daily Presidential Tracking Poll for Friday shows that 51% of Likely U.S. Voters approve of President Trump's job performance. Forty-seven percent (47%) disapprove.

The latest figures include 37% who Strongly Approve of the president is performing and 40% who Strongly Disapprove. This gives him a Presidential Approval Index rating of -3.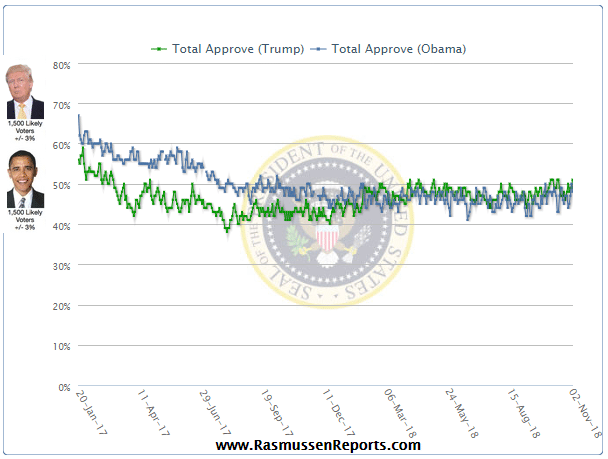 Keep in mind that most major polls have a liberal bias. Rasmussen tends to be more accurate, but even they are affected by the mainstream media's false stories about Trump.
Even with that skew, they give Trump a 51% approval rating. That's titanic!
Add to that the massive crowds at every rally Trump attends, people are excited about what the president is doing.
SHARE if you're excited about President Trump and the Red Tsunami coming!
Remember, fake news has bashed Trump at every turn. Liberals in the media blame Trump for tragedies. They twist his statements. They've even edited videos to slam him.
But they continue to fail. Americans of all stripes are rallying around the one man making America great again.
His numbers, even with pollster bias and unending fake news, are at record highs. Imagine what they'd be if the media was honest!
With that kind of success, Republicans are energized to get out and vote. But that doesn't mean we can breathe a sigh of relief.
The election is TUESDAY. Every last patriot must get out there and vote.
There will only be a red tsunami if conservatives defy liberal expectations. Because you know they're doing anything to win.
SHARE this story if you are part of the Red Tsunami to help Trump!
Source: Rasmussen Reports