Trump Finds All The Border Wall Money – Leaves Mexico In Shambles
Mexico thought Donald was bluffing, but he just found a way to make them pay.
Over the years, President Trump promised that Mexico would pay for our much-needed border wall.
Liberals laughed at him. They clearly underestimate the man who wrote the book on deal-making.
Now, the president has announced to the whole world what his plans are.
From Washington Examiner:
In a tweet, he said the new trade agreement to replace NAFTA would save the U.S. so much money, that Mexico is effectively buying the border wall for America.

"I often stated, "One way or the other, Mexico is going to pay for the Wall." This has never changed," Trump tweeted Thursday morning. "Our new deal with Mexico (and Canada), the USMCA, is so much better than the old, very costly & anti-USA NAFTA deal, that just by the money we save, MEXICO IS PAYING FOR THE WALL!"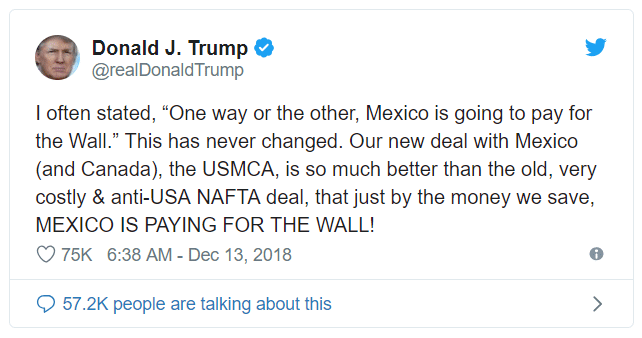 Donald Trump promised us the wall. And by God, he's going to give us one.
SHARE if you want to see the border wall go up, once and for all!
He was able to bring Pelosi and Schumer to the White House and argue with them in front of the press.
As the Democratic leaders (a sorry bunch at that) hemmed and hawed and threw around insults, Trump was seen working for the people.
He even landed a historic, new trade deal with Mexico and Canada to ensure our country's prosperous future.
Thanks to the new trade deal, we are saving significant money from Mexico. Under NAFTA, America lost billions in jobs and other funds to our neighbors.
Trump makes a good point about the new deal. Mexico won't be able to bleed us dry like they used to.
The money saved can easily be used to build the wall.
So what are we waiting for?
SHARE if you want to see the border wall go up, once and for all!
Source: Washington Examiner