Trump Changes Main Border Wall Feature – Leaves Democrats In The Dust
Donald is making big changes to the wall – Nancy and Chuck didn't see him coming.
Democrats prove they are terrible at negotiations.
They will not compromise—even when jobs are at stake. President Trump, on the other hand, is making this a win-win situation.
Among the endless debate over the wall, one comment must have stuck out. It gave Trump a brilliant idea.
Now he's declaring that the wall will not be constructed out of concrete—but it will be American-made.
From Twitter: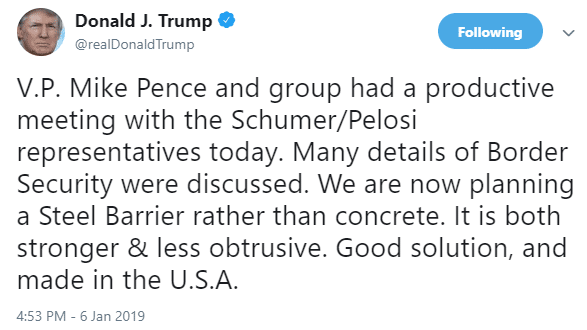 V.P. Mike Pence and group had a productive meeting with the Schumer/Pelosi representatives today. Many details of Border Security were discussed. We are now planning a Steel Barrier rather than concrete. It is both stronger & less obtrusive. Good solution, and made in the U.S.A.
SHARE to thank President Trump for a big, beautiful STEEL wall!
Steel gives the wall several advantages. It can be forged into a wide variety of shapes.
The latest designs suggest a very high barrier, with openings in order to see on the other side.
That gives Border Patrol a way to easier see if anyone's trying to assault the wall.
Steel is more weather resistant. Rustproof, it won't require as frequent maintenance.
Environmental complaints are completely bunk, now. A steel barrier won't prevent animals that migrant across those regions.
And to top it all off, it will be made by U.S. steel companies.
That's a huge win that even Democrats can't oppose.
But the only question is, will they continue to obstruct, prolonging the shutdown?
Will Democrats be able to finally strike a deal with Trump? Or will they continue to be the petty, childish crooks they've been for months?
It's getting harder and harder for them to keep up this game.
SHARE to tell President Trump THANK YOU for a big, beautiful steel wall!
Source: Twitter