President Trump Blindsides California – Delivers $3B Order To FEMA
California Governor Jerry Brown didn't see Donald coming – here it comes.
California thinks it can defy the federal government over and over and get away with it. It seems like their entire platform is to oppose President Trump and his America First agenda.
And still their governor, Jerry Brown, thinks he can collect billions of taxpayer dollars from the rest of the country. All to fund their radical programs.
There's some bad news coming for California, though. Trump just announced their gravy train is quickly coming to an end.
From Politico:
President Donald Trump on Wednesday said he may order FEMA to cut off funding for forest fire relief in California…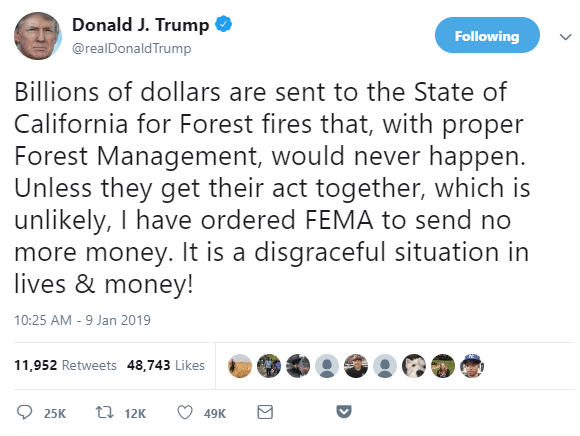 "Billions of dollars are sent to the State of California for Forrest fires that, with proper Forest Management, would never happen. Unless they get their act together, which is unlikely, I have ordered FEMA to send no more money. It is a disgraceful situation in lives & money!" Trump wrote on Twitter.
SHARE to thank President Trump for pulling taxpayer dollars from California!
I wonder why there aren't any devastating forest fires in other parts of the country? Maybe because their leaders are smart enough to prevent them?
Other states have programs and measures in place to prevent these kinds of disasters.
But for decades, we've seen California's Democratic leaders neglect basic needs like this. Their infrastructure, like roads and bridges, are crumbling.
Meanwhile, they spend billions on programs to help non-Americans and freeloaders.
You'd think they'd put their tax-paying citizens first. Nope!
Democrats care more about buying losers votes than helping the people who keep our society running.
Donald Trump is finally forcing them to make the right choice. They have to put in the work to keep their forests safe.
If not, they won't be getting cash from our government to fix things when they go out of control.
SHARE to thank President Trump for pulling taxpayer dollars from California!
Source: Politico