After Dems Shut Down D.C. – Trump Makes Last Minute Change To Christmas Plans
While every other politician is already on vacation, Donald and Melania are making a big sacrifice.
After everything that's happened this year, Donald Trump continues to fight for the American people.
Despite obstruction by Congress, the President is working to secure border wall funding.
He is even willing to get blamed for the government shutdown.
Now, he's changing his personal Christmas plans, to make sure the wall gets built, one way or another.
From Breitbart:
President Donald Trump will remain in Washington, DC, even though the Senate has adjourned until after Christmas.

White House Press Secretary Sarah Sanders confirmed that the president would remain at the White House, while First Lady Melania Trump would return from their Mar-a-Lago resort to spend Christmas together with the family…

Parts of the government shut down after Senate Democrats refused to pass funding legislation passed by the House that included $5 billion in funding for border security.
Senators are quitting, opting to fly back home rather than work to keep the government open.
Not the president. He made a promise to the American people. And he's going to make it happen, one way or another.
SHARE to thank President Trump and the First Lady for sacrificing for Americans!
And he's calling out all the politicians who failed to deliver to Americans: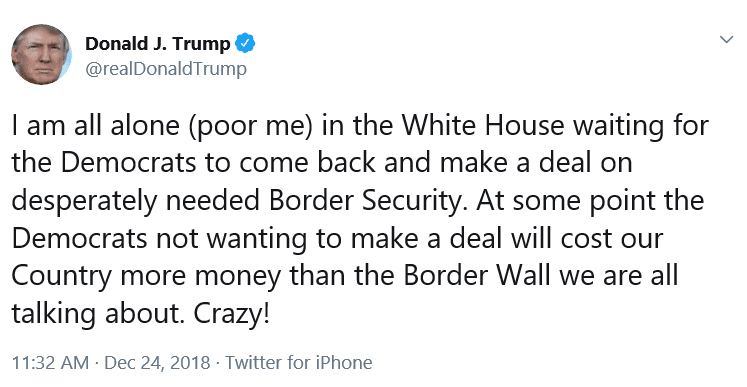 We don't see this kind of commitment from swamp dwellers in D.C. They only work when it's convenient.
And when they do, they put special interests and greedy globalists ahead of everyday Americans.
But Trump is so determined to make border security happen, he's willing to cancel his own Christmas plans.
No other politician is willing to do that. Nope! They have to stuff their faces with turkey and sit back and relax—after a year of doing nothing!
Melania is even flying back to be with him, altering her own plans.
SHARE to thank President Trump and the First Lady for sacrificing for Americans!
Source: Breitbart