After Liberals Lay Off Thousands, Donald Drops The Chicken Hammer
They never saw Donald's chicken hammer coming.
American car giants got billions from taxpayers in bailouts to keep them afloat.
For years Obama put tight restrictions on them to go green. They're following the rules even though it meant the American people paid for the higher costs.
Now under Trump, it looks like they're willing to keep going green even if that means cutting American jobs.
GM just cut thousands of American jobs, and Trump's not happy.
So he's suggesting a genius way he can strike back to protect American workers.
From Washington Examiner:
President Trump suggested the use of a "chicken tax" on cars is a possibility after General Motors announced thousands of job cuts and the the shuttering of several North American facilities to focus attention on emissions-free and self-driving vehicles.

"The reason that the small truck business in the U.S. is such a go to favorite is that, for many years, Tariffs of 25% have been put on small trucks coming into our country," Trump said.

"It is called the 'chicken tax.' If we did that with cars coming in, many more cars would be built here and G.M. would not be closing their plants in Ohio, Michigan & Maryland. Get smart Congress.
SHARE to thank President Trump for putting American workers first!
Some in the auto industry are objecting to Trump's chicken tax, claiming it would increase production costs in the United States and launch a trade war that would be bad for business.
But the steel industry is proof that Trump's tariffs work.
Earlier this year, Trump put a 25% tariff on steel imports in order to help jumpstart the industry.
This week, Steel Dynamics announced it would be investing a whopping $1.8 billion to build a new steel mill in the Southwest, which will create 600 new "well-paying" jobs.
The President tweeted his support of the move, and declared that "steel jobs are coming back to America."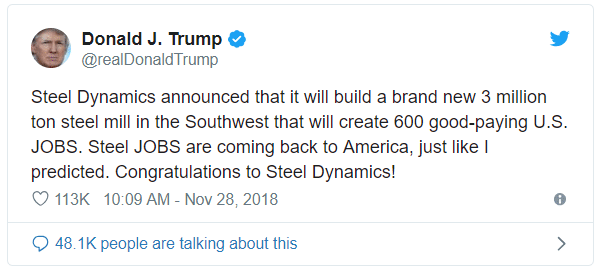 Americans elected President Trump because they knew having a business savvy President would save our jobs, and so far he has not disappointed.
SHARE to thank President Trump for putting American workers first!
Source: Washington Examiner