Trump Farmer Stands Up To Democrat Shutdown – Plows Giant Message Into His Field
A 78-year-old farmer is fed up with Nancy Pelosi and Chuck Schumer's lies, so he's spelling out the truth with his tractor for all America to see.
The government shutdown is officially Democrats' fault. The impact is getting worse, all because they refuse to make a deal with President Trump.
And average Americans are fed up and are doing something about it.
One elderly Trump supporter, Gene the farmer, got out his tractor and sent the Washington swamp a clear message.
It's beautiful!
From Daily Mail:
A 78-year-old Trump-supporting farmer has spelled out his view on the current 20-day federal government shutdown.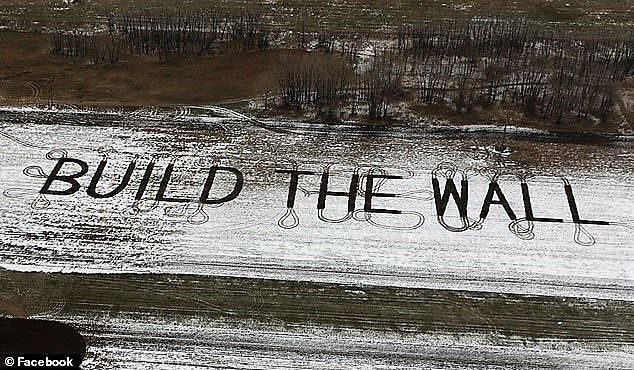 Gene Hanson, of Edgeley, North Dakota, plowed the words 'build the wall', in capitals in one of his fields.

The shut-down has been caused by the US President demanding $5.7 billion to build a wall at the southern border with Mexico, and the Democrats refusing this funding.
SHARE if you agree with this farmer—BUILD THE WALL!
I think a massive majority of Americans on Gene's side.
Weeks go by as the Democrats do nothing. They are forcing many Americans to lose work and pay.
Numerous government services are shut down. With more to follow, if the shutdown drags on.
President Trump made it very clear: he will gladly approve funding—immediately if needed—if the Democrats support the wall.
It's only stubborn liberals who refuse to work with the president.
Meanwhile, Americans are outraged over the mess in D.C.
I think we'll be seeing more messages like Gene pop up in the coming days. Don't you?
SHARE if you agree with this farmer—BUILD THE WALL!
Source: Daily Mail