Trump Scores MAMMOTH Food Stamp Victory – MILLIONS Of Welfare Leeches Affected!
When Donald Trump won the presidency, he swore to get America working again.
This involved getting as many people as possible off welfare and other forms of assistance, like food stamps.
Under Barack Obama, food stamp usage skyrocketed … because Democrats only believe in giving stuff away for nothing.
Trump, on the other hand, believes in earning your daily bread.
And he's definitely having an impact.
Via Breitbart:
"More than 3.5 million people have dropped off food stamps since President Donald Trump's first full month in office, according to the latest data from the U.S. Department of Agriculture (USDA).
The most recent USDA data reveals that 38,577,141 Americans received benefits through the Supplemental Nutrition Assistance Program (SNAP) … in September 2018.
When Trump took office in February 2017, 42,134,301 Americans had been receiving SNAP benefits, according to the data.
The most up-to-date numbers also show enrollment in food stamps has declined for 11 straight months."
That's right: for nearly the past full year, the numbers have been going down.
And here's the number of people who canceled their SNAP benefits from month to month during the current fiscal year:
October to November: 4,050,688
November to December: 357,508
December to January: 740,952
January to February: 385,456
February to March: 39,701
March to April: 426,055
April to May: 139,570
May to June: 175,204
June to July: 352,584
July to August: 86,238
August to September: 297,116
Look how many dropped off in just the last few months!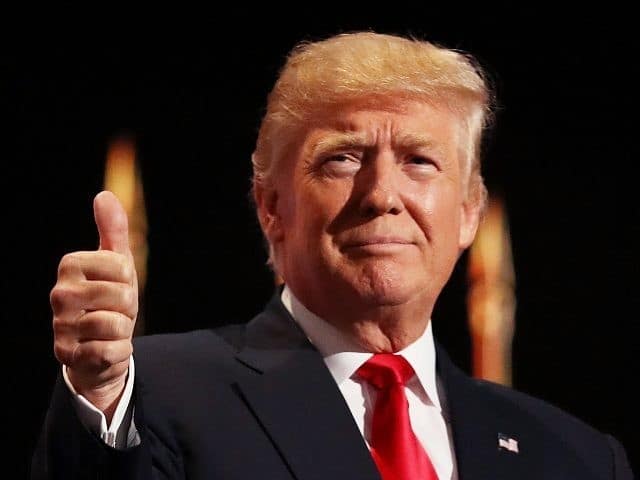 Trump's efforts to reform SNAP and other welfare programs also comes into play here.
And don't forget that many states are now calling for drug screening and other increased vetting procedures for those who want food stamps.
The bottom line is that more and more people are working in this country today, and we have only one man to thank!
What do you say, fellow patriots? Four more years?
Source: Breitbart