Trump's Makes Major ICE Change – Undocumenteds Are Racing For the Border
No more Mr. Nice Donald.
If Democrats had their way, we'd have no border.
Under President Obama, our law enforcement agencies weren't allowed to do their jobs.
Our southern border was little more than a revolving door, and the results spoke for themselves:
Fewer jobs and a lack of opportunity for Americans, and rising crime. Everywhere.
But already President Trump has made lasting impact on illegal immigration. And even with such a lack of support from Congress, his ICE is doing its job in a big way.
Now, a new report has come in, revealing the Democrats' worst nightmare.
From Breitbart:
"President Donald Trump's enforcement officials have sharply boosted the repatriation of non-criminal illegal migrants in the nine months up to July 2018, says the Associated Press news service…
ICE arrests of noncriminals increased 66 percent in the first nine months of the 2018 fiscal year over the same period a year earlier…

Under President Barack Obama, enforcement officials narrowed their focus to illegal immigrants who were found guilty of violent crimes.
That strategy required enforcement officials to ignore illegal immigrants they met in routine operations, and also prompted judges to set aside at least 100,000 deportation cases against illegals."
Hmm, I wonder why Obama refused to deport these aliens—even though they were breaking the law…?
Perhaps because he was counting on illegal immigrants to sway elections for the Democrats?
That has been the Left's strategy for years: they know illegal aliens will vote for whoever lets them stay.
Democrats look the other way as illegal enter the country, take jobs, and gobble up government handouts. Liberals then find ways to get these aliens into voting booths.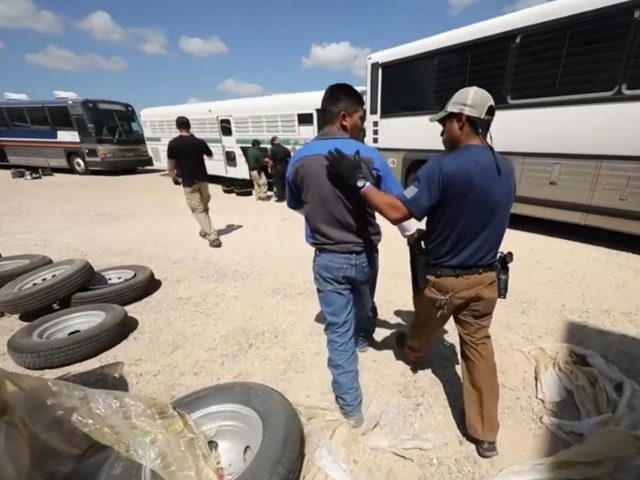 In hotly contested races, their fraudulent votes can mean the difference.
This is why Democrats have opposed Trump so fiercely. His stance on enforcing immigration laws hurts their schemes.
But despite all their scheming, Trump is fulfilling his promise to the American people:
Deportations are up a whopping 66%. These are people who broke the law to come to America, stayed here illegally, and took jobs and money from Americans.
Shouldn't they be held accountable for those actions? Share if you say, "Yes!"
Source: Breitbart