Trump Just Dropped Righteous FURY On Cop Killers – Democrats Are REELING
Our brave men and women in law enforcement are in constant danger.
Many suffer untimely deaths while doing their sworn duty to protect civilians.
And the Left has made matters worse by stirring up hatred for the police. Now, our protectors all have targets on their backs!
Who can forget the Black Lives Matter sniper in Dallas, who took the lives of 5 police officers?
To add insult to injury, Obama placed the blame on police departments and their inherent "racial discrimination, [because] of slavery, and subjugation, and Jim Crow."
Obama not only said this, but he said it during a memorial service for the police officers who were murdered.
That's SICK.
On the other hand, President Donald Trump loves and respects our heroes; from Western Journal:
"'Cop killers deserve to die,' President Donald Trump said Monday.
'Reducing crime begins with respecting law enforcement,' Trump told the International Association of Chiefs of Police in Orlando, Florida Fox News reported.
'We believe that criminals who kill our police officers should immediately, with trial, but rapidly as possible, not 15 years later, 20 years later — get the death penalty.'
To date, 43 officers have been fatally shot in 2018. That's approaching the 2017 total of 45 officers shot to death."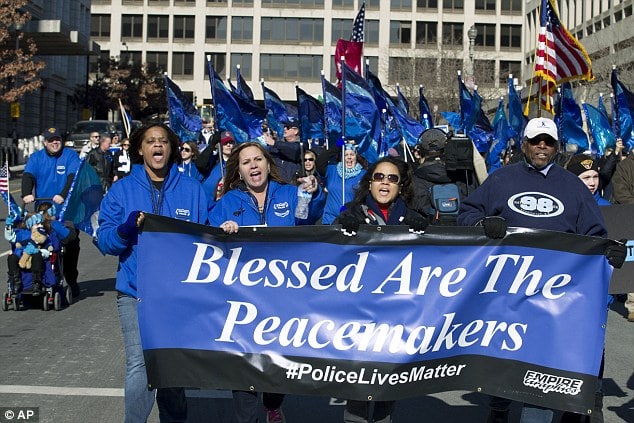 The dangerous criminals who threaten police lives must be treated with zero-tolerance, and those who kill officers should be given no-quarter for their heinous crimes.
The President is not alone in demanding that cop killers face the harshest punishment possible.
Across the country Americans proudly back the blue, and so does President Trump, who called out the Left for their role in escalating the violence against our officers.
"Politicians who spread this dangerous anti-police sentiment make life easier for criminals and more dangerous for law-abiding citizens…

…and they also make it more dangerous for police, and it must stop, and it must stop now."
The President then went on to pledge that our police officers would receive the funding that they were denied under the Democrats.
"They don't want to give us the kind of funds that you people are requesting, but you're getting them anyway because we're giving them to you."
Now here's a President that we desperately need!
Here's someone who believes in the law, and supports those who uphold that law.
As for cop killers … do you agree with Trump's zero-tolerance policy?