President Trump Blindsides Mueller – Turns His Investigation Upside-Down At 11th Hour
Mueller thought he had Donald cornered – turns out Trump has him at checkmate.
For years, Robert Mueller has led an "investigation" into Russian meddling during the 2016 Election.
But after all that time—and tax dollars spent—where are the results? The Democrats have used Mueller's probe as a weapon to target Trump allies.
We haven't seen any evidence of Russians working with Americans to "steal" the election (unless, of course, you mean Hillary's bogus dossier).
Now we are finally getting close to seeing Mueller's results. Liberals are speculating wildly. Some think the heat is on for Trump and his administration.
Donald, though, doesn't seem too worried. In fact, he's going on the offensive, calling out Mueller and his gang of corrupt Democrats.
From Twitter: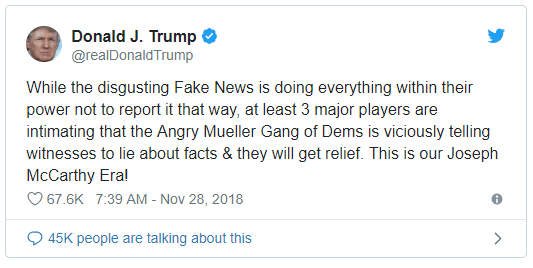 While the disgusting Fake News is doing everything within their power not to report it that way, at least 3 major players are intimating that the Angry Mueller Gang of Dems is viciously telling witnesses to lie about facts & they will get relief. This is our Joseph McCarthy Era!
SHARE if you think President Trump is telling the truth about Mueller's investigation!
We know that the Russian investigation is merely a witch hunt to undermine the White House.
There is no evidence to even remotely hint that Trump's campaign worked with Russia. After two years of digging, Mueller can't find anything to prove the left's theory.
Yet Mueller has continued to drag out his probe—for no reason! Now it seems like Mueller is trying to force witnesses to lie.
All so that the Democrats can save face, after two years of lying and scheming.
It's not going to work. The truth is on the side of Trump and patriotic Americans. Much like in the era of McCarthy, Mueller is trying to damage innocent people for political purposes.
But Trump isn't taking this lying down. When all the facts are told, it will be the Democrats and their allies in the DOJ that will face the music.
As always, the world watches what Trump tweets. And they're seeing just what he intends.
SHARE if you want Trump to lock them ALL up!
Source: Twitter