After Trump Drops Hammer On NATO – They Send $100B Response
Donald blasted them for being "delinquents" – but even he didn't see their response coming.
You might not see this if you love the president, but one of Trump's best strengths? Getting his opponents to underestimate him.
These global liberal elitists wrote him off from the moment he announced his candidacy. But look at how he's transformed our country—and the world.
Many world leaders scoffed when Trump promised to make America #1 in the world again.
But now he's delivered another major promise on the world stage. One the "experts" said he'd never do.
From the Telegraph: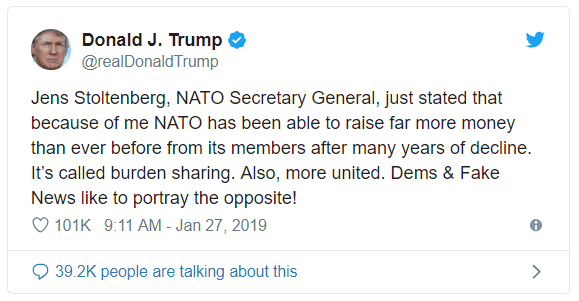 NATO states will increase their defense spending by 100 billion dollars in response to Donald Trump's demands that European allies shoulder a greater financial burden, the alliance's secretary general has said.

Jens Stoltenberg said on Sunday that the alliance had heard Mr. Trump's call for non-US members to shoulder a greater financial burden "loud and clear" and that allies are "stepping up."
SHARE to thank President Trump for making America the leader of the world again!
Trump's critics scoffed, even got outraged, when he called NATO out for its hypocrisy.
The United States was pouring billions into security forces, all to protect Europe. European nations barely contributed.
In fact, many assert that Europe can afford "socialized" medicine (as bad as it is) simply because they don't have to pay for strong militaries.
Sorry, Germany! You have to pay to keep NATO running. It's only fair. We've built military bases, missile installations, and even stationed ships and troops in Europe.
We are basically protecting Europe from their enemies (i.e.: Russia and Iran). Maybe Europe should put at least a little bit of cash into this ongoing effort.
Only Donald Trump even bothered to mention this. Why? Why did the rest of our leaders—including past presidents—let Europe get away with screwing over American taxpayers?
We will never know. But this is yet another example of how Trump is putting us first, not the rest of the world.
SHARE to thank President Trump for making NATO pay their fair share!
Source: Telegraph