Trump vs. Ocasio-Cortez In 2020 – The Poll Results Just Shocked America
What will happen in 2020?
Democrats are lining up their list of opponents for Donald Trump, and that list includes some pretty big names.
Elizabeth Warren, Joe Biden, Bernie Sanders, and others might make a run at the presidency in two years.
But what about the new Democrat darling, socialist Alexandria Ocasio-Cortez?
Sure, she's too young to run in 2020, but Rasmussen recently ran a poll pitting her against Trump, just to see how voters would respond…
And the results are sort of terrifying.
Via The Right Scoop:
"Though just one-in-three voters have a favorable opinion of freshman Representative Alexandria Ocasio-Cortez, if she were old enough to run for president in 2020, she'd give President Trump a run for his money.

A new Rasmussen Reports national telephone and online survey finds that, if the 2020 presidential race was between Trump and Ocasio-Cortez…

…43% of Likely U.S. Voters would vote for Trump, while 40% would vote for Ocasio-Cortez. A sizable 17% are undecided."
Okay, so the sample size of about 1,000 "Likely Voters" isn't huge, and the 17 percent "undecided" batch is significant.
However, look at what this is saying:
It indicates the country is almost split on keeping Donald Trump as President … or electing a full-blown Socialist.
This means a shocking number of people absolutely want the United States to become a Socialist country.
And that's exactly what would happen if AOC got in, or if Bernie Sanders happened to win in 2020.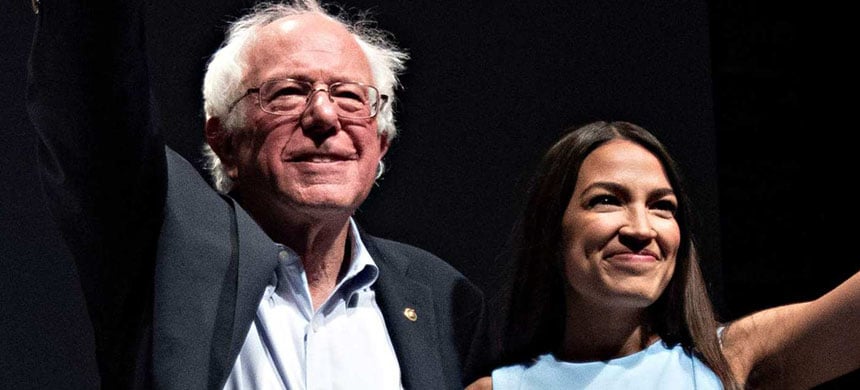 You might think socialism isn't a realistic possibility, given the fact that it has failed everywhere on earth it has been implemented.
But Leftists really do want this.
They want to give as much control to the government as possible, erase individual achievement, and basically put everyone right at the poverty line.
And that really is a terrifying prospect, isn't it?
Source: The Right Scoop