After Trump Ends Democrat Shutdown, Pelosi Announces Change To His Speech
Nancy, that is not what you and Donald agreed to. And you know it.
The government shutdown came to a head last week when Pelosi confirmed she would be barring President Trump from giving his State of the Union until the shutdown was over.
After further negotiations, Trump reopened the government Friday with a solution to get workers paid and give 3 weeks for Congress to find a bipartisan solution he could sign.
And then Pelosi turned around and showed how terrible she really is.
From Zero Hedge:
In a move that's sure to infuriate President Trump and likely impede negotiations over the border security funding that Trump has demanded be part of any permanent plan to avert another shutdown, House Speaker Nancy Pelosi is still planning to postpone the State of the Union by refusing to officially invite the president to give the annual speech on Tuesday.

Asked about the SOTU, Pelosi said after a deal to end the shutdown had been reached that she and the president would discuss holding the SOTU once the government had reopened, a cryptic response that many interpreted as meaning that the speech would be postponed.
Since Pelosi's thinly veiled threat, other sources have confirmed that she is indeed blocking the President from giving his State of the Union Address.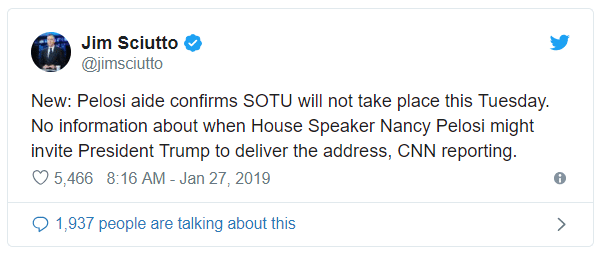 SHARE to tell Nancy to change her mind and let Trump give his State of the Union right away!
Pelosi's childish behavior proves she's unworthy to the Speaker of the House.
She threw a temper tantrum over $5 billion for a border wall, and now she's barring the President from giving his speech.
This is something no one can seem to justify because the President gave compromised with the Left and gave them a temporary end to the shutdown.
Democrats have got to get rid of her before she destroys them completely.
There used to be decorum on Capitol Hill, but her lack of respect for Trump and the office are going to cause a massive Red Wave in 2020 with Trump on the ticket.
SHARE to tell Nancy to change her mind and let Trump give his State of the Union right away!
Source: Zero Hedge