Trump Signs EXPLOSIVE American Law—Veterans Are Blown Away
In this day and age, American power is needed more than ever.
Our enemies have not been sleeping. Across the planet, radical Islamic terror, communist regimes, and other threats still linger.
Their goal is clear: to overrun the world with tyranny and fear.
The United States has stood against these enemies for generations; we have brought peace around the globe, thanks to the unwavering strength of our troops.
Sadly, in recent years, our military has languished, as previous administrations all but crippled our fighting forces.
But thankfully, all that changes today: thanks to President Trump, our military is getting the shot in the arm it needed for over a decade.
From Breitbart:
"President Donald Trump traveled to Ft. Drum in New York on Monday to sign a bill funding military operations for FY 2019…
Trump was met at the runway by military officials as an air assault exercise was underway.
The $716 billion appropriations bill was named in honor of Sen. John McCain, but Trump did not mention the senator's name during his speech.
According to the White House, the bill authorizes an increase of 15,600 troops, funding for 77 F-35 fighter jets and funding for 13 new battleships.
'This authorization will give America's warfighter the firepower they need to win any conflict quickly and decisively,' he said.
'We must always be on the cutting edge.'"
This bill also increases active servicemen's salaries for the first time in almost ten years. Imagine working at a job for years, with no hope of getting a raise…!
Now imagine that job involved leaving your home, traveling overseas, and fighting people who hate your country.
Shouldn't our soldiers get at least a modest bump in pay, from time to time?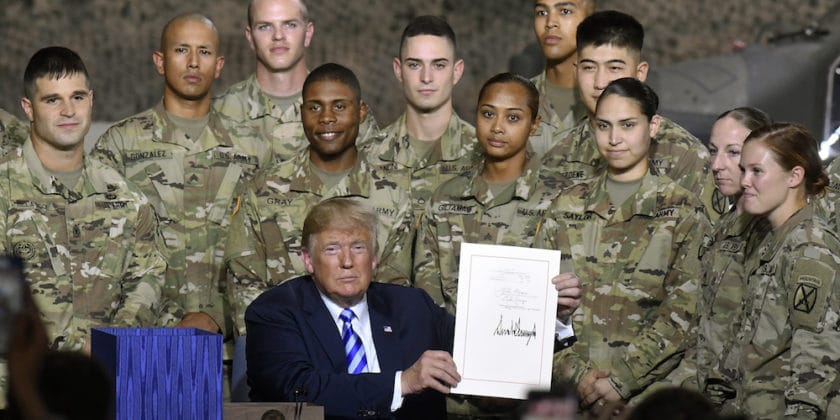 Yet our previous leaders were more than eager to deny them this basic benefit. Oh, but you better believe crooks in Congress gave themselves raises over that same period of time.
This is why we call D.C. a swamp: bloated fat cats who sat around and do nothing got paid hundreds of thousands of dollars.
Meanwhile, our troops were harassed, ill-equipped, outmanned, and getting paid peanuts.
Trump's stance has always been to celebrate and honor our men and women in uniform; he has made sure his administration honors past veterans—and active servicemen.
He is doing everything in his power to make sure they are properly treated.
And wouldn't you agree that it's about darn time?
Source: Breitbart