Trump Announces 'State Of The Union' Plans – Gets Last Laugh On Pelosi
Pelosi thought she beat Donald, but he just turned the tables on her.
Thanks to Pelosi shutting down the government, the fate of Trump's State of the Union was in question.
The petty Speaker withdrew her invitation, claiming there were too many "security concerns," even after Secret Service debunked that.
It was clear she was playing games. That's all Pelosi's good at.
And even when Trump ended her government shutdown, for the first few days she played coy and it seemed like she would still not let him give his speech to the American people.
But now Pelosi's changing her tune. And Trump has , kindly accepting his victory over her.
From MAGA Voter:
On Monday, House Speaker Nancy Pelosi issued a public letter inviting President Trump to give his planned State of the Union address on the 5th of February…

Monday afternoon, President Trump accepted Pelosi's offer, which he said "would be my honor to accept."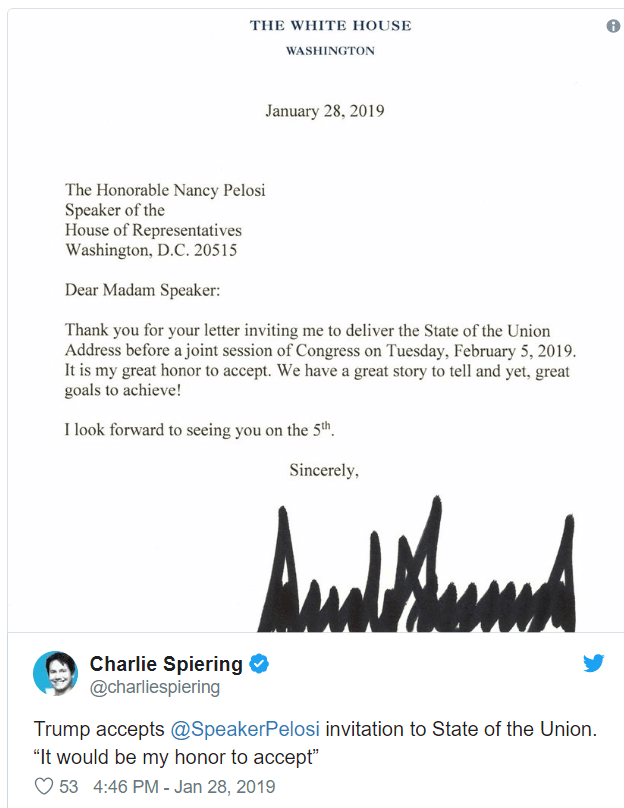 "We have a great story to tell, and yet, great goals to achieve!" said Trump, adding, "I look forward to seeing you on the 5th."
SHARE to tell President Trump you are going to watch his State of the Union!
After the battle over the State of the Union this month, seeing him up there with Pelosi scowling in the background while he makes the case for the wall will be priceless.
President Trump has much to say in this year's SOTU.
He has accomplished great things over the last year. The country has been thriving, thanks to his America First agenda.
All Americans are enjoying a robust economy and increased opportunity. That's a direct result of his rollback of Obama-era regulations, tax cuts, and smart new trade deals.
The state of our economy is great. The state of other aspects of our country, though? Not so much.
Thanks to the Democrats' obstruction, we have a humanitarian crisis on the border.
Immigration activists keep sending busloads of border jumpers to bombard our border. That's only on top of the thousands trying to enter the U.S. daily.
This crisis has led to crime and shattered communities. The only effective solution is a secure border wall—the one thing Democrats refuse to support.
President Trump is going to have quite a lot to talk about. The Democrats are going to regret playing their petty games, at the expense of the American people.
It's going to be quite the speech to watch.
SHARE to tell President Trump you are going to watch his State of the Union!
Source: MAGA Voter