Trump Fan Dared To Wear MAGA Hat In Public – Here's What Happened
Many citizens who voted for President Trump are afraid.
Specifically, they're afraid to wear anything showing their support for him in public, which proves oppression is alive and well.
We have to FEAR for our safety because we voiced our opinion…?
Yes, one of our most important freedoms, the right to free speech, is under constant attack by the unhinged Left.
Even worse, politicians like Maxine Waters and Eric Holder have actually encouraged liberals to harass conservatives.
The result? You'll rarely see anyone wearing Trump gear in public for fear of being attacked.
Now, yet another victim of leftist violence has come forward, and his story shows just how far Anti-Trumpers are willing to go to intimidate conservatives into silence…
From Western Journal:
"According to Jonathan Sparks, he was wearing Trump campaign gear and holding a political sign in downtown Tucson ahead of last week's midterm elections…
…when an individual approached from the rear and grabbed his red 'Make America Great Again' cap.
He told KVOA that he felt a 'very strong grasp' on his hat, which pulled him backward by his hair.

'The assailant jumped onto my ankle from behind,' Sparks said.

'And so, not knowing my ankle was broken into four pieces, I turned around to grab and take the hat back.'
Throughout the ordeal, he said he heard the other man shout politically-charged accusations.
The man who attacked Sparks shouted the words "Hitler," "Nazi" and "Trump," at him while hitting him repeatedly.
Thankfully, concerned bystanders pulled the attacker off Sparks and held him until police arrived.
It's always ironic when Democrats accuse Trump supporters of being Nazis when their own Party's platform is FAR more similar to the Nazis.
Both Democrats and Nazis are socialists after all, and they use forced propaganda to spread their message.
As for Sparks, after he was taken to the hospital, he discovered just how bad his ankle injury really was. He then underwent a 20 hour surgery.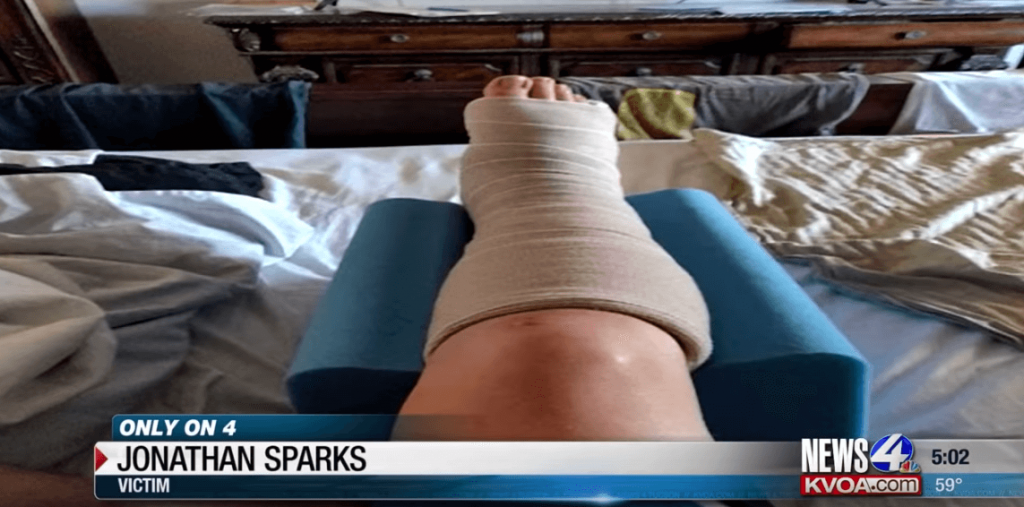 But instead of focusing on the attacker, Sparks is choosing to focus on those who helped him.
"There were people who pulled him off, paramedics who stayed with me, there is a police officer that protected me," he told reporters.
And Sparks has no regrets about standing for his beliefs, because he knows his cause is important:
"I was making a statement that I personally believe that Donald Trump is a fantastic president of the United States," Sparks said.
Interesting that these people are WAY more mature than the temper-tantrum-throwing liberals, isn't it?
Source: Western Journal