CNN Calls Trump Supporters Terrorists – Then The Democrat RAP SHEET Leaks!
The TRUTH about Democrats exposed, right here.
For a very long time, Democrats have accused Trump supporters and conservatives of violence.
Furthermore, liberals in the media have accused President Trump of "dividing the country."
Perhaps the worst was CNN's Don Lemon, who said white men are the "biggest terror threat" in this country.
Racism obviously doesn't count when we're talking about white people. Right, CNN?
Time and again they call conservatives vile names like white supremacists, racists, and Nazis. They say violence in our country is all their fault.
But the facts are much different.
Ever since Donald Trump entered the political arena, it's been open season on conservatives.
Liberals have unleashed an unprecedented wave of violence against Trump supporters.
From Breitbart:
"When not calling Trump supporters 'Nazis' as a means to dehumanize us, the establishment media like to whine about the lack of civility in American politics…
…even as they cover up, ignore, downplay, or straight-up approve of the wave of violence and public harassment we are seeing against supporters of President Trump."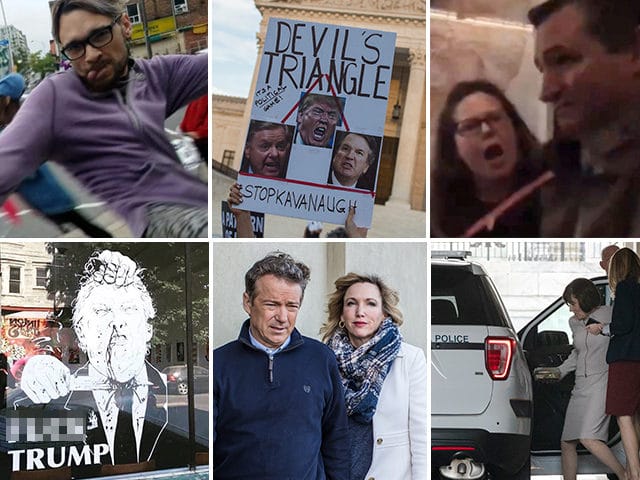 Breitbart outlined every incident of violence against conservatives since 2015:
The shocking list tallies up to 639 moments where a liberal attacked a conservative.
Here are just a few examples from the past week:
November 5, 2018: Bomb Threat called in at building next to Trump event.
November 5, 2018: Sen. Joe Manchin (D-WV) tells cheering supporters he "wanted to 'Beat the Living Crap out of' his GOP Opponent
November 3, 2018: Gillum (D-FL) intern arrested in Florida for throwing chocolate milk at College Republicans
November 2, 2018: Although reported to Twitter, live tweet (three days and counting) threatens Trump's family.
November 2, 2018: Joe Biden Again Threatens To Harm GOP Candidate, "I'd Like To Give Him A High Threshold Of Pain"
October 31, 2018: Woman Threatens Violence Against 11-Year-Old over Trump Halloween Costume
October 31, 2018: Traverse City, MI,GOP office receives bomb threat
October 29, 2018: Actor James Cromwell: There will Be 'Blood in the Streets' Unless Trump Stopped
October 29, 2018: Twitter allows 179 death threats against Trump
October 29, 2018: FL: Shots Fired into South Daytona Republican Party Office
Check out the full insane list of all 639 instances HERE.
Incidents include bomb threats at events, death threats online, vandalized GOP offices, physical assaults of peaceful protesters, riots, and calls for violence by Democrat leaders.
And they celebrate radical, left-wing groups like Antifa—who call for more violence against conservatives.
There is a trend of violence against Americans … and it's ALL coming from the left.
As conservatives gain momentum in our government, liberals are doing everything they can to intimidate us, persecute us, and silence us.
The question is: are we going to let them win…?
Source: Breitbart