Trump Waves His "Magic Wand" – Strikes Down Obama's Holy Grail
Obama said it couldn't be done – so Donald stepped up and made it disappear.
Democrats are nothing but Debbie Downers. And Obama was the worst of them.
But there is a reason for all the negativity. They don't want the U.S. to succeed.
President Obama set up America for a slow decline. He deliberately crippled our industries so that foreign globalists would prosper.
He even insultingly said it would take a "magic wand" to fix our broken industries.
I guess we should be calling Donald Trump "Gandalf," because he's announcing that he's just done the impossible.
From Twitter: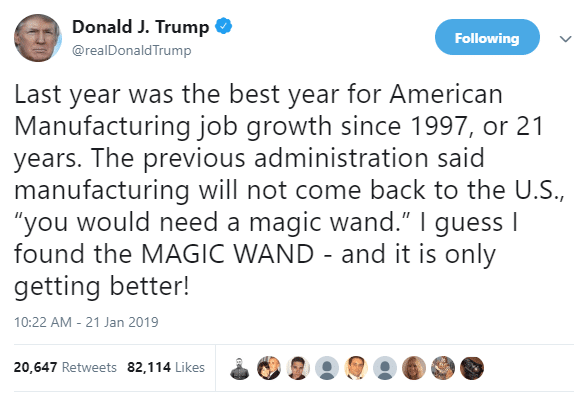 Last year was the best year for American Manufacturing job growth since 1997, or 21 years. The previous administration said manufacturing will not come back to the U.S., "you would need a magic wand." I guess I found the MAGIC WAND – and it is only getting better!
SHARE to thank President Trump for showing Obama how WRONG he was!
This proves how stupid—or corrupt—Barry Obama was. He said it would take magic to bring back manufacturing jobs.
Trump had that magic wand: it's called common sense. President Trump slashed government regulation, which helped companies thrive.
He landed a historic tax cut bill, which is helping companies and workers keep more of their money.
This has led to one of the longest economic booms in our nation's history. One that is seeing blue-collar jobs flourish.
Democrats knew this was possible. So did Obama. They just didn't want to do it. They'd rather destroy opportunity and force millions of Americans to get on Welfare.
Because that would have made Democrats more powerful.
President Trump is inspiring Americans to get out and work again. His America First policy is leading more businesses to be the best they can be.
SHARE to thank President Trump for giving America the best economy in decades!
Source: Twitter