Trump Warns Migrants: 'Guess What's Gonna Happen If You Throw Rocks At My Soldiers?'
The migrant caravan pushing its way toward the U.S. border is an invasion.
That's the only word for it.
Every last one of these people seek to storm across our border illegally, then force us to care for them (and their families).
They'll do whatever it takes, and that includes attacking border officials and military members.
We've already heard reports of migrants throwing rocks at authority figures, which is evidence of the kind of people in these caravans.
But if they keep doing it, they're in for a nasty surprise…
President Trump has warned migrants that if they throw rocks at the U.S. military, the soldiers won't just stand there and take it.
Via Breitbart:
"President Donald Trump warned caravan migrants traveling to the Southern border of the United States on Thursday that he would not put up with violent attacks, even if it was just people throwing rocks.
Trump instructed the military to treat an attack from rocks the same as an attack from a rifle.
'Anybody throwing stones, rocks, … we will consider that a firearm because there's not much difference when you get hit in the face with a rock,' he said, referring to the group attacking border guards in Mexico.
'We're not going to put up with that, they throw rocks at our military, our military fights back,' he continued.

'We're going to consider, and I told them, consider it a rifle.'"
The President added that he hoped there would be no violence, and urged the caravan to turn back.
But of course, they won't. Not unless they're stopped.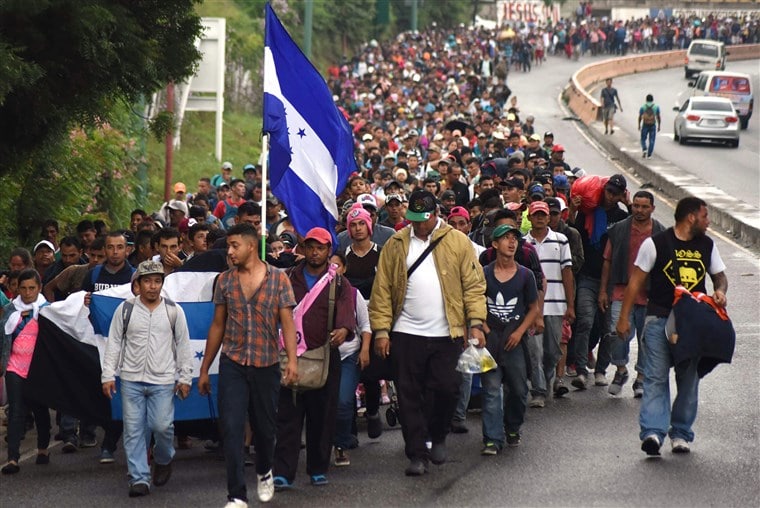 Trump said the thousands of illegal immigrants is "like an invasion" and they've already "overrun the Mexican border."
If they think they can do the same with our border, however, Donald says they're "wasting their time."
"We're not releasing them into our country any longer," Trump said, promising to hold migrants in tents on the borders.
Trump said the U.S. is a "welcoming country" but "no nation can allow itself to be overwhelmed by uncontrolled masses of people rushing their border."
This sounds like nothing more than common sense, right?
Well, it is. And it's also common sense to say these migrants aren't just seeking asylum. Trump added:
"These migrants are not legitimate asylum seekers.

They are not looking for protection because if they were, they would be able to get it from Mexico."
Exactly correct.
This IS an invasion. A very big, very illegal, and very dangerous one.
Thankfully, though, we have a leader who puts the safety of REAL American citizens first!
Source: Breitbart