Trump Takes MASSIVE Action Against Illegals—Democrats Are Panicking!
Undocumented citizens are on the brink of a major defeat.
They've managed to live in this country illegally, leeching off hard-working American citizens, for far too long.
They have access to services they shouldn't have, and they illegally participate in activities that should only be available to U.S. residents.
Activities like voting.
We all know illegal voters were a big problem in the last presidential election, and Donald Trump has sworn to fix the problem.
Well, House Majority Leader Kevin McCarthy agrees with the President's stance, and he's drawing a line in the sand. From Breitbart:
"The U.S. House of Representatives will vote next week on a resolution offered by House Majority Leader Kevin McCarthy that admonishes U.S. cities for allowing illegal aliens to vote in local elections."
The measure, which Democrats are expected to oppose, in two pages states that it is the position of the House of Representatives that allowing illegal aliens the right to vote disenfranchises American citizens."
It absolutely disenfranchises American citizens!
Here's a snippet from the resolution text McCarthy has submitted:
"Recognizing that allowing illegal immigrants the right to vote devalues the franchise and diminishes the voting power of United States citizens."
"…Whereas it is of paramount importance that the United States maintains the legitimacy of its elections and protects them from interference, including interference from foreign threats and illegal voting…"
The resolution also mentions that liberal cities like San Francisco and Chicago are allowing illegal aliens to vote in various elections, including school board elections.
And this is just wrong.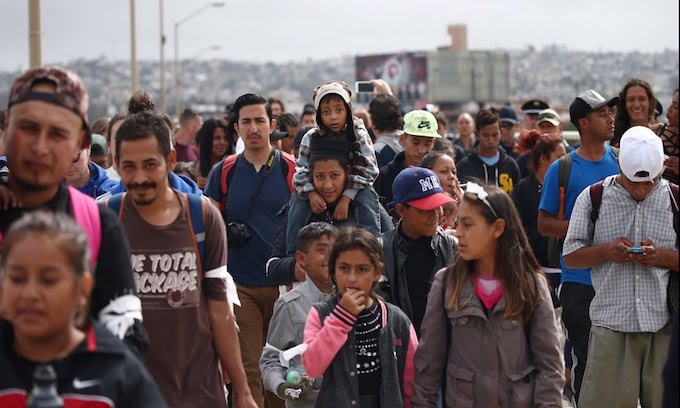 If you want to vote, you need to be a citizen of this country. Period.
Added McCarthy:
"Naturalized American citizens often describe casting their first ballot as one of the proudest moments of their lives.
The act is a reminder that they have become Americans, with all the rights and responsibilities of Americans."
Of course, Democrats will oppose this resolution because they don't believe in citizenship.
They think all records of citizenship should be destroyed, and all borders should be eliminated.
Obviously, this would be an unmitigated disaster, but Leftists seem to have a twisted desire for chaos and anarchy.
At any rate, it's ludicrous that non-residents should be allowed to vote for anything, so let's hope McCarthy's resolution passes.
Share this story if you believe we should NOT give illegal immigrants the right to vote!
Source: Breitbart