Vet Proudly Hangs Trump Flag Outside Home – Next Morning He Looks Outside, Gasps In Shock
The land of the free…
…but only if you're a liberal.
This is the agenda the mainstream media has been pushing; this is the dirty little secret behind the "tolerant" Leftist perspective.
If you're a straight white male in this country, you can be mocked and even attacked, and at this point, the media might APPLAUD.
And God help you if you support your President.
Veteran Gus Klein found this out the hard way, and now he understands:
There's nothing "peace-loving" about liberals … you will follow them, or they will attack.
From the Miami Herald:
"After someone burned a 'Trump 2020' flag flying outside of his house, Gus Klein says he sees his Burlington, Vermont, neighborhood in a whole new light.

The veteran of the Afghanistan War told WCAX that after waking up on Sunday morning, he went outside to find a burned piece of fabric resting on his front porch.

Then, Klein says, he 'noticed that the flagpole was laying on the ground' and the flag wasn't on it."
That's right, some thug actually went onto this man's private property and burned the American flag.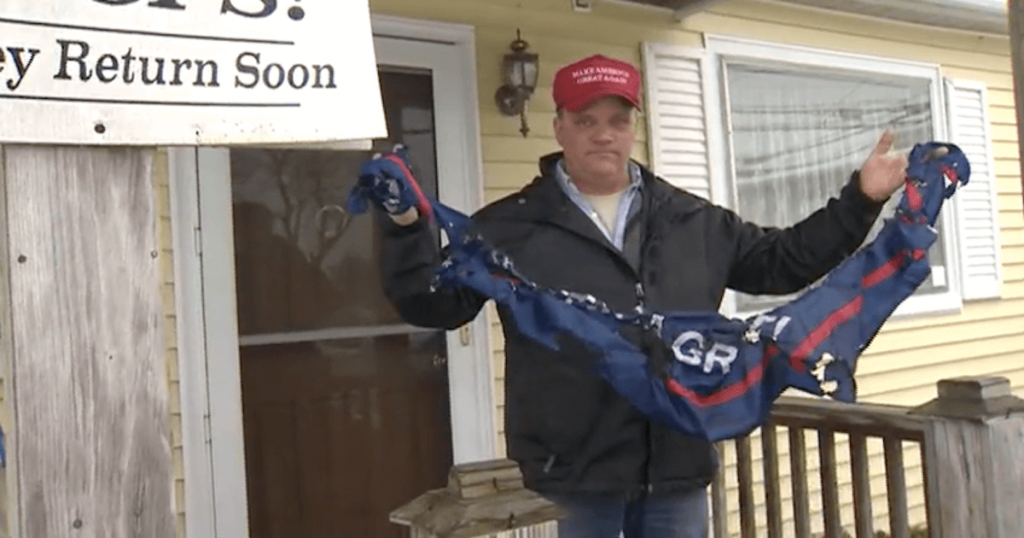 So much for "political freedom."
And Klein is now understandably worried about his family's safety.
"Knowing that there's people out here who do this, there is fear in my mind and it's not right.

I should be able to come and go as I want and we should be able to sleep at night in our own property, so there is fear."
His wife, Annmarie, had the proper term for it: "Bullying."
And that's exactly what this is; liberals are the most hostile, violent bullies this country has ever seen. Period.
This is hardly the only example, either.
Last month, a man in Washington state said someone burned his pickup truck because of a "Trump 2020" bumper sticker.
Then there was the flag burning in front of a Fresno business:
None of this has anything to do with simple differences in political ideology.
This is the shockingly immature, petulant Left throwing a temper tantrum like the children they are.
And the worst part?
The media and likely Hollywood will SUPPORT this kind of disgusting, vicious behavior. And that's the problem, right there.
In America, you're only free if you believe what you're "supposed" to believe.
Source: Miami Herald