Trump Explosion – 878,000 MILLION Reasons America Is Flying High!
When on the campaign trail, Donald Trump said he would put Americans first.
He promised to get this country rolling again, promised to ramp up productivity, promised to put the U.S. economy back on top.
And in his first two years, Trump – one of the most successful businessmen in the world – has delivered.
Perhaps one statement from the Credit Suisse's Global Wealth Report says it best:
"The boom goes on."
It does indeed and this time, America is leading the charge.
From Washington Examiner, via Credit Suisse's aforementioned report:
"The booming U.S. economy, jump-started by the 2017 GOP tax cut, has created 878,000 more millionaires in just the last 12 months.
Looking at the number of millionaires, we see that there are 42.2 million millionaires worldwide, which is up 2.3 million over the previous 12 months.
Our research indicates that the United States added 878,000 new millionaires — representing around 40 percent of the global increase — to its already sizable stock."
The report showed U.S. wealth growing at 6.5 percent, which is a lot higher than the world average of 4.6 percent.
Furthermore, there's a "seemingly relentless rise in household wealth in the United States."
And why is all this happening?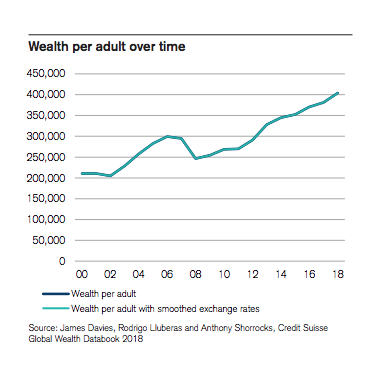 Because, as we said above, Donald Trump is a man who keeps his promises!
Furthermore, despite the Left's constant hate campaign against the wealthy, there's another important fact:
"Fortunately, there are signs that wealth inequality is no longer rising, which should mitigate the impact of any setback on the middle classes."
Lastly, the U.S. has more citizens with wealth above $100,000, as well as more millionaires.
Granted, this rise began ten years ago, well before Trump got in office, but the last two years have REALLY fueled America's economy.
We're back on top and we're just going to keep soaring!
Source: Washington Examiner