WINNING – America's Blue-Collar Workers Score Gigantic Victory, Thanks To Trump
When Donald Trump was running for president, he said that America would grow tired of winning under his leadership.
Now, Trump has been president for two years, and he has enjoyed unprecedented success.
You're not tired of winning yet, are you?
Each time President Trump puts forward a winning strategy, Democrats and his critics have scoffed. They claim his plans will fail.
Well, his critics are either total liars, or completely ignorant of the very issues they claim to be "experts" in.
Because once again, one of Trump's tough stances has scored a massive victory.
From Reuters:
"United States Steel Corp (X.N) workers are set to get the biggest wage jump in at least six years under a new deal negotiated with the company…
The agreement, reached on Monday, proposes a cumulative 14 percent wage increase over a four-year period, three sources familiar with details of the negotiations told Reuters on Tuesday…
Trump's restrictive trade policy, coupled with a strong economy, has sent domestic steel prices soaring…
…helping U.S. Steel post a near 60 percent increase in pretax profits in the June quarter."
For years China dumped inferior steel into the U.S. market, and it drove prices down and hurt American steelworkers.
U.S. presidents always have the power to pass tariffs. Yet for decades, none of our presidents did.
Why not?
All it took was Trump passing a modest tariff on inferior Chinese steel and BOOM … American steel is back in business!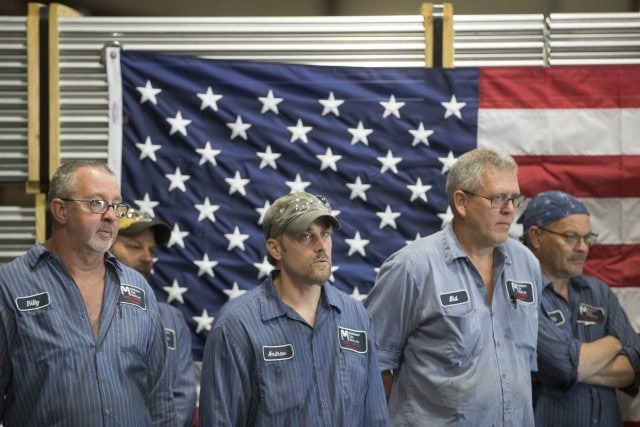 American steel companies posted a 60 percent increase in profits, and that's beyond anyone's expectations.
This is why everything is working: wages rise so companies can keep good and hard-working employees; when a company does well, its employees do well.
We haven't seen that in a while, because Democrats told us companies were greedy.
Their plan was to punish American companies with high taxes and regulation, which resulted in fewer jobs and low wages.
Thank goodness those days are gone! 😀
Source: Reuters